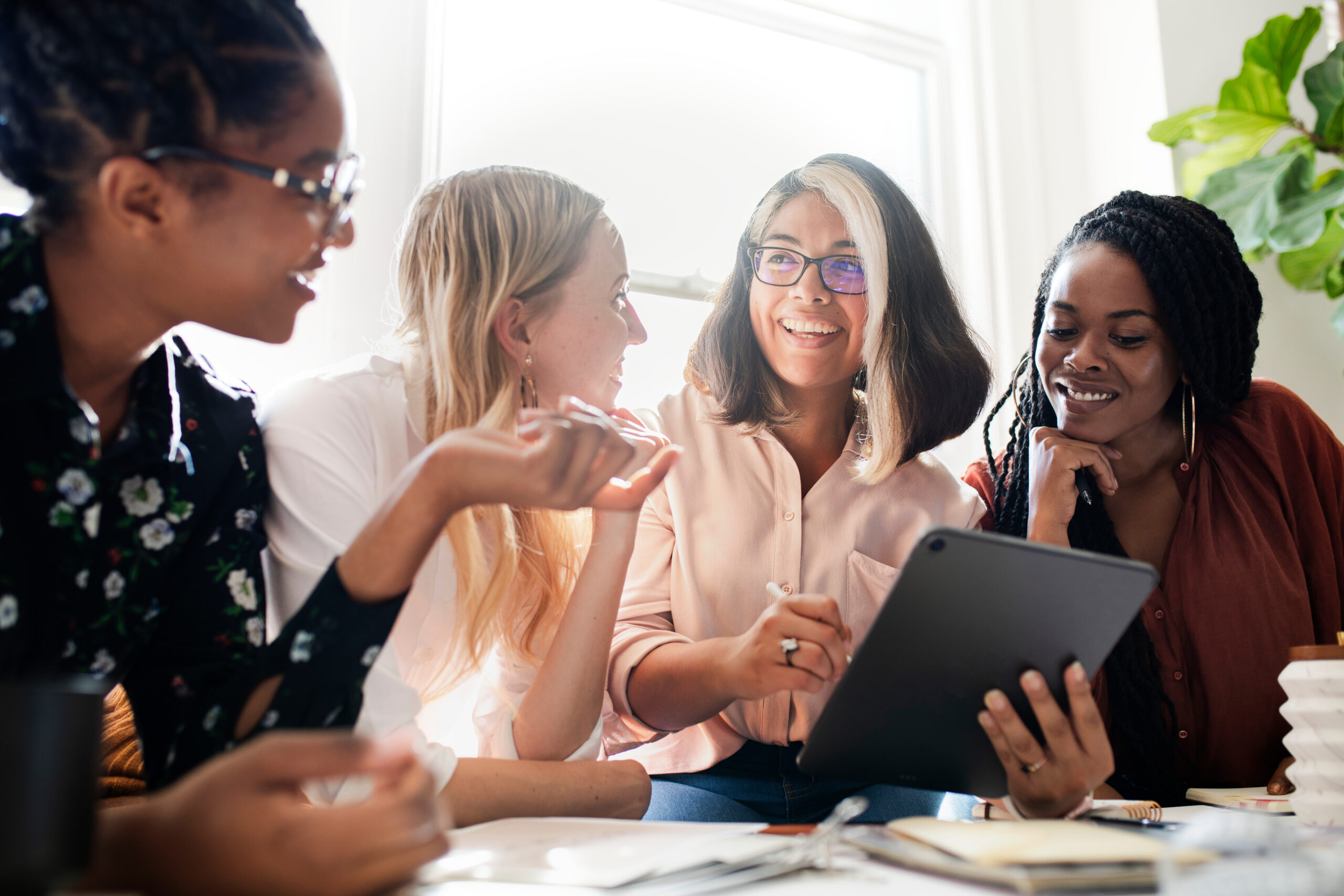 27 Feb

How to Increase Productivity: Workspaces & Work Routines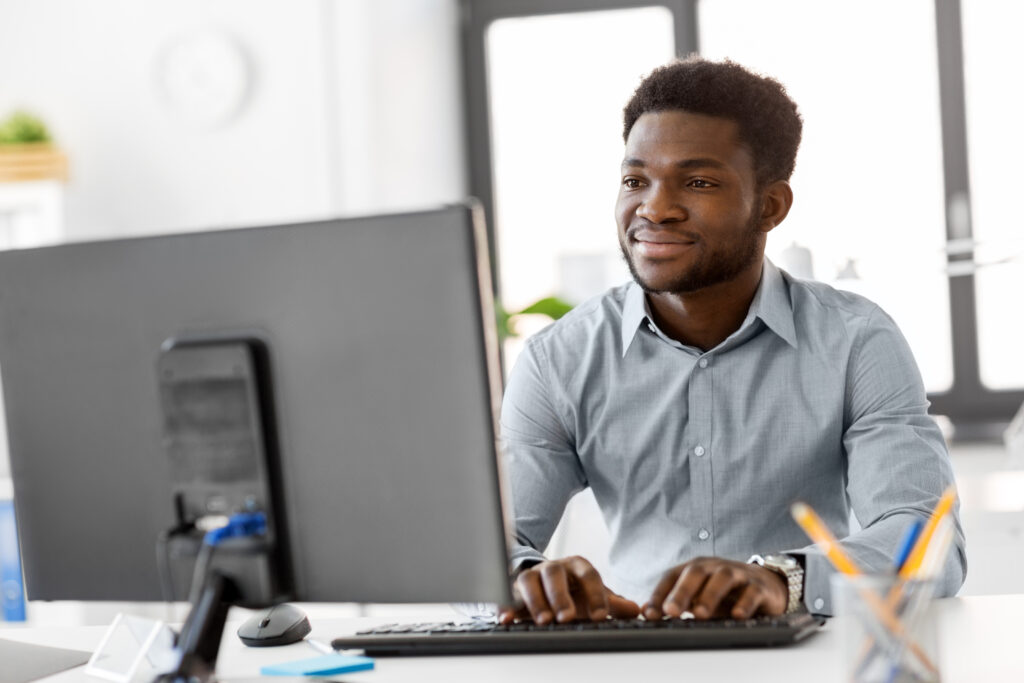 The COVID pandemic exposed a variety of truths. It drastically shifted how employees view work culture. It forced employers to seek creative solutions to stay in business. The "stay-at-home" order transformed our homes into multipurpose zones: classrooms, podcast studios, amateur movie sets, Zoom-fatigued home offices, and many other makeshift mainstays. There was also a shift entitled "The Great Resignation," where many decided to make a bold move into entrepreneurship. Now that the world has reopened, many corporations have either returned to business as usual, adopted a hybrid model, or allowed their employees to continue to work remotely. Full-time, hybrid, remote workers, or budding entrepreneurs must skillfully establish workspaces to increase productivity and efficiency.
Regardless of where you set up shop, it is vital to establish a routine for your day. Routines and schedules help ease the stress of unpredictable situations, help save time, and provide you with a sense of accomplishment at the end of the day. Javacia Harris Bowser of See Jane Write, a community for female bloggers, writers, and entrepreneurs, does a "Sunday Slay." She schedules time every Sunday to plan her week. This time allows you to visualize your week by planning outfits and menus, setting reminders for any appointments, and creating a to-do list or timeline. It will also let you see a path to the weekend.
Inc.com offers four tips for daily productivity:
Stage manage your entrance: just as the stage manager makes sure all the props and performers are set, you need to ensure everything you need is ready the night before.

Set up your coffee or morning beverage

Fill up your kettle, put your water & pod in your Keurig, select your tea

Make your breakfast or lunch

Breakfast:

Find a recipe for overnight oats
Gather your ingredients for a quick bite

Lunch:

Make and pack your lunch
Prep your ingredients if you are working from home

Set your alarms
Pack your bag (if you are working away from home)
Prepare for your exercise routine

Lay out your clothing
Set your music or podcast playlist
Determine your workout or running path

Set your outfit, including accessories

Plan your attack: whether it is on a whiteboard, paper, or in an app, use a calendar to check out your day, week, and possibly even your month

Make a task list based on the plan

Set benchmarks for your list

Divide your day into time blocks and assign a time limit to your tasks

Manage your mind: declutter your mind of obsessive or excessive thoughts

Journal at the start or end of each day to write your prayers, express your worries, or brain dump.
Listen to music or a podcast while getting ready in the morning or as a way to wind down each evening
Read a devotional, article, or book to give yourself a brain break

Psyche yourself up for success: failing to plan is a plan for failure

You can have a successful week or day without planning your outfit or lunch. However, eliminating those little decisions can significantly impact your mindset.

Small wins lead to big victories.
Winning is a great confidence booster and encourages you to keep on going.
Show yourself some grace. Even if you don't check each box on your list or oversleep, it does not mean your day will end poorly.
As you adjust your routine, let's explore what you can do or modify your workspaces to complement your productivity strategies.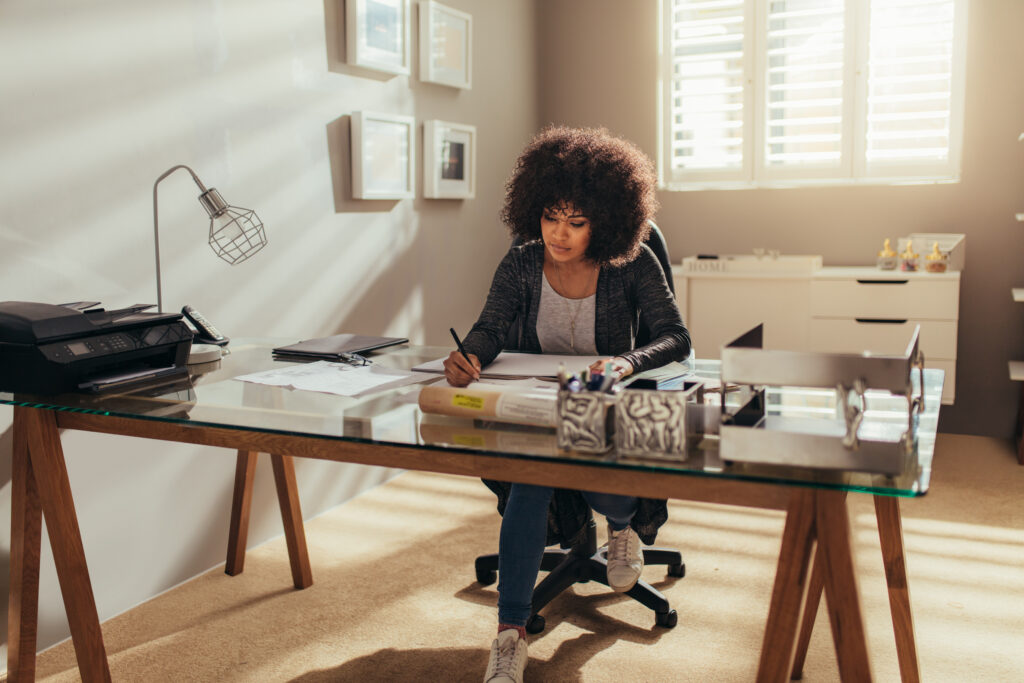 Working from Home
Designating a specific space or room for work is vital when working from home. Your house is full of your comforts and distractions. Even if you can roll out of bed and right into your desk chair, stick to the plan. Set your alarm, clean your face, grab a cup of coffee, and face the day.
Where should you set your workspace?
A room with a door – a spare bedroom, dining room, basement

Closing the door is a way to delineate your work from the rest of the house

A space near a window

Natural light allows you to keep track of your day. Working in a windowless room helps you lose track of time.

A space where a desk and chair can comfortably fit

If you have limited space, establishing your desk or table as a work zone helps create boundaries

A space near outlets – convenience helps
What does your home workspace need?
Desk – standing or traditional
Chair – the more ergonomic, the bet
Whiteboard – helps keep your goals and task before you; you can also use this space to brainstorm ideas
Coffe cup warmer – eliminates the need to get up and reheat, if necessary
Clock – Although our computers and phones have clocks, looking up from the screen to see the time gives your eyes a break and helps keep track of your day
Organizational tools – keep your workspace organized and clutter-free
TV – a good and bad distraction. You might need to a pause or background noise. Only include this if you know it will help.
Printer – another optional component, but if you find the need, make sure you have the space, paper, and ink.
External monitor – provides convenience and should increase productivity
Work in an Office
Whether you have returned to work or been given the option to work hybrid, creating an environment conducive to productivity is crucial. Consider your coworkers, the desk space (open desk vs. cubicle), and whether you are a hybrid employee.
Items to include:
Coffee cup – be economically and environmentally conscious
Water bottle – another environmentally aware solution and allows you to stay focused
Organizational supplies – again, eliminate clutter
Portable heater or fan – most offices are either too cold or too stuffy. Eliminate excuses and optimize your environment.
Sweater or jacket – a heater might not be allowed, so be prepared
Motivational reminders – pictures, children's artwork, quotes, knickknacks – anything that reminds you of your why
Squishy ball, fidget spinner, hand exercise tool – typing on your computer or phone and mouse-clicking all day can tire your hand and forearms. Take a break and strengthen your hands and fingers.
Sanitary items – hand sanitizer, facial tissues, disinfectant wipes
Earbuds or headphones – if allowed, plug your ears and keep your head down
External monitor, if you use a laptop
Coworking Space
Renting a shared desk or an office helps those who work remotely. Working from home can get lonely. Going to a coworking space allows you to see other people and network with those people. Choose a plan you can afford. Options include a mailing address, access to office equipment, conference room use, 24-hour access to the building, and storage. You can travel with your comforts, but you must be mindful of your rental space. If you have a desk, you might be unable to leave items. If you have an office, you should be able to lock and secure your space.
To meet your needs, you can ala carte items from either the office or home workspaces.
Ideal environments help people thrive and succeed. The right chair, a window, music in your ears, or a nice cup of coffee can motivate you to do your best. Creating a plan encourages progress. As we draw from the new year's high, set realistic goals, make good habits, and protect your peace. Your business or responsibilities can succeed when you have the right tools.
Learn how we can support you in any workspace, become a client today! www.gobe.org